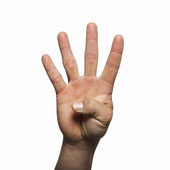 In this week's Friday 4, I offer up two items that you may be able to incorporate tomorrow into your classroom routines and two items that are intended for contemplation and perhaps long term action.
Two items you could use tomorrow:
"Whiteboarding" is a wonderful way to get students working together in groups that can be used in any classroom. I came across a twist on the standard use of whiteboards in the classroom recently that I thought was pretty neat. The

Whiteboarding Mistake Game

will help to introduce higher order thinking into any activity that uses whiteboarding.
Richard Byrne (

@rmbyrne

) recently highlighted

three free online tools

that students and teachers can use for collaborative brainstorming. With more and more collaborative work happening in classrooms, managing and facilitating the archiving of ideas can be a challenge; these tools may make it a little bit easier.
Two items to read/discuss/debate and ponder:
Tom Whitby (

@tomwhitby

) recently penned a blog post (can I even say "penned" a blog post?) titled

Confidence through Connectedness

that I found to be quite thought provoking, particularly given our school's ongoing discussions about online learning and innovative teaching.
Why do girls do better in school than boys? A

recent study

looks at some of the reasons. I was left thinking "What can I do as a classroom teacher to counteract the forces at work?"
As always, I welcome your comments or suggestions. Enjoy!