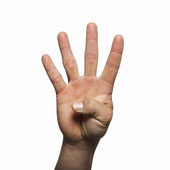 Friday Four – June 15
Now that summer has officially begun for me (grades and comments completed and turned in!) I will attempt to get back to regularly posting my weekly Friday Four. Summer is a great time for many to catch up on reading, to learn something new or to work on lesson plans for next year. However you spend the summer, I hope that it includes at least some professional development. To that end, I will continue to share interesting and thought provoking items that I run across that might inspire you or lead to changes in your teaching.
The first few items are actually links to a few summer conferences that might be of interest to you.
If you are in CT during August, you should consider attending the Edcamp CT conference at the Ethel Walker School. If you have never attended an Edcamp "unconference," here is all you need to know – The cost is free and the agenda for the conference is decided on by the attendees. Here is a video that explains the concept in a little more detail.
While it is sold out for live attendees, it not too late to register to attend the Flipped Learning Conference virtually. You can stream the event live or watch the videos for up to 6 months if you register as a virtual attendee. The conference is being held in Chicago next week, June 19 and 20. You can also follow the conference on Twitter at the following hashtag #flipcon12. For those who are unfamiliar with flipped learning, here is a recent article from the Education Week website about it.
I recently ran across a post from Chris Betcher on his blog that described a wonderful PD day that was held at his school. The day was run by Mark Church, the author of the book Making Thinking Visible. Chris writes "Mark's message was that we can do much more to really expose the thinking of our students, to help them develop greater understanding of what they learn and to make the learning more authentic and meaningful." I have added Mark's book to my summer reading list after reading Chris's thoughts on the day.
My final thought provoking item of the week is a recent post from another one of my favorite bloggers and Tweeps, Tom Whitby. In this post, Tom takes on "Hypocrisy in the Profession of Education." Are you a life long learner?
As always, I welcome your comments and sugegstions.