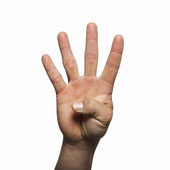 Friday Four 5/25/2012
We are rapidly approaching the end of the current school year which means that summer vacation is right around the corner. For me, summer is when I have time to work on new ideas for my classes. I do not have papers to correct, meetings to attend or any of the other distractions that make focusing on bigger projects virtually impossible during the school year. I am confident that many of you also use at least part of the summer break to ponder, explore and develop new ideas for your own classrooms. With that spirit in mind, this week's Friday 4 includes several items that I hope will inspire you to expand your repertoire as a teacher. Once the craziness of the spring subsides and you are in summer "big picture" mode, revisit one of the links from this post and develop a new lesson or update a current one to include a new idea or twist.
Enjoy the remaining days/weeks of your school year and don't forget to do your homework over the summer. Your students are counting on you!